Sales Funnel Strategy: Maximizing Conversions and Sales Success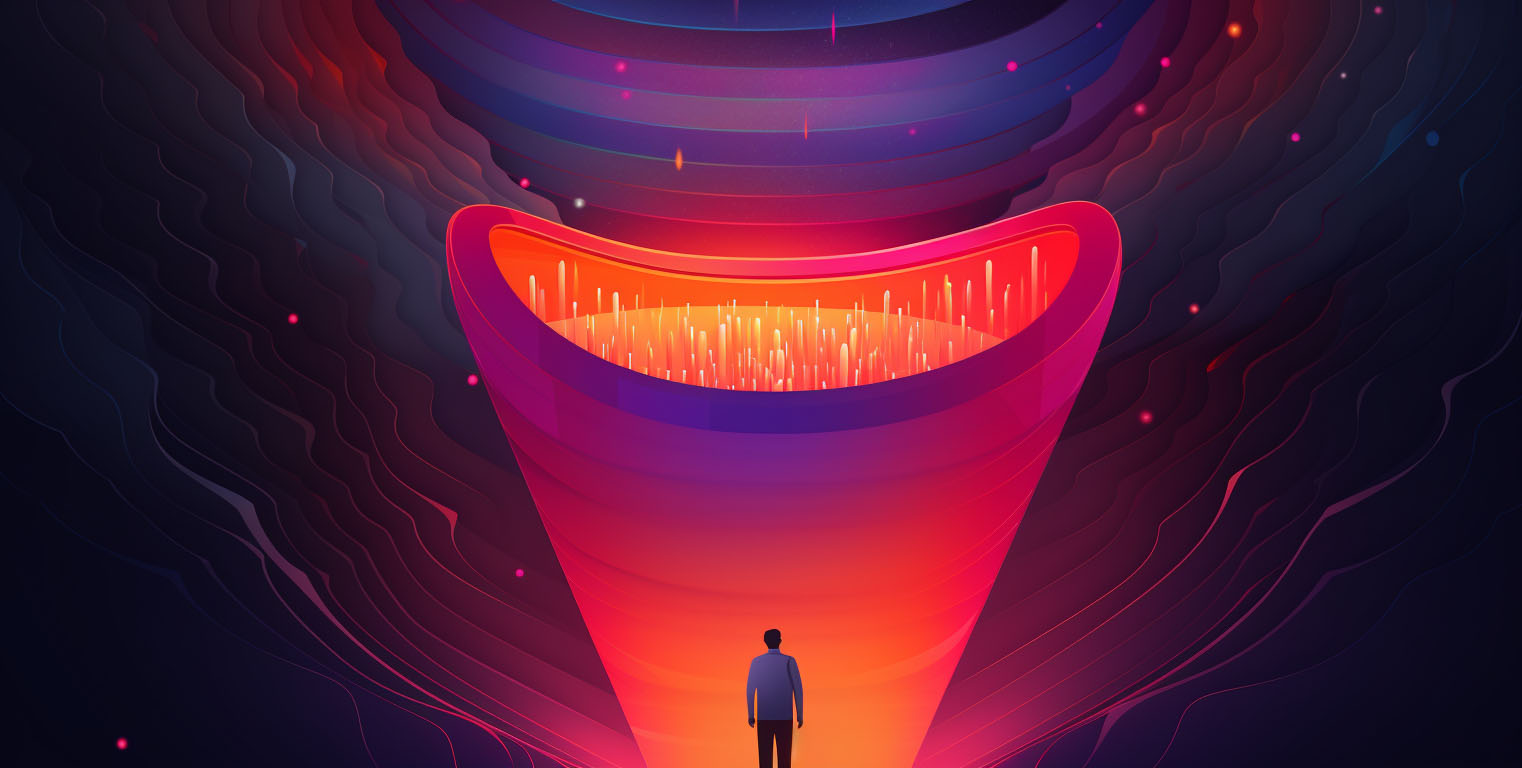 The relationship businesses have with their customers is much like a journey. It starts with an introduction, when potential customers become aware of their need for your services, and ends with them purchasing your products and services and becoming loyal to your brand. As such, this process is called the customer journey.
The customer journey is important because it helps businesses attain and secure new customers, empowering growth. To better understand the customer journey, organizations utilize a sales funnel, which helps make sense of each stage of the process.
You may already have a sales strategy in place but keep missing sales, notice diminished conversion rates, or struggle to engage with prospects. If so, it's time to rethink the sales funnel to maximize its benefits. This guide discusses the overall importance of a successful sales strategy and the various stages of the sales funnel, providing insights for businesses to take action at each point of the customer journey.
What is a Sales Funnel?
The sales funnel — sometimes called the conversion or marketing funnel — is a tool for visualizing the key points along the customer journey. It enables business leaders to see more clearly where prospective customers are in the buying process, which helps them decide their next move for conversion.
There are two main types of sales funnels, linear and exponential. A linear sales funnel is for businesses that want to grow sales steadily, while an exponential sales funnel strives for sales that compound rapidly.
Part of the appeal of the sales funnel is its simplicity. Using it, marketers and salespeople can group the customer journey into three broad stages — the top, middle, and bottom. Granted, the customer journey isn't always linear, especially in today's digital world, but the sales funnel remains a valuable resource that can easily be adapted to different industries, buyers, and circumstances.
The different stages of a sales funnel represent the following:
Top of the funnel: Customer's awareness of their problem and need for your products and services to solve it
Middle of the funnel: Customer looks at your website or social media pages to better understand your brand and offerings
Bottom of the funnel: Customer follows a call to action (CTA) on your site, such as providing contact information or completing a purchase (this is conversion)
The sales funnel isn't just important for providing a map of the customer journey. It also helps marketing and sales teams understand how potential customers feel and what they may be thinking as they decide on a purchase. This knowledge helps businesses devise more informed marketing strategies, implement the most relevant messaging, and ultimately increase conversion rates and sales.
The Stages of a Sales Funnel
As mentioned, the sales funnel is typically broken down into a top, middle, and bottom. However, these stages also represent actions that describe customer behavior at each point — awareness, interest, decision, and action. Understanding customer interactions at each stage is crucial if a business wants to map sales activities and support prospective customers through the sales funnel. Learn more about the four key stages:
Stage 1 — Awareness: Attracting and Engaging Leads
The awareness stage happens when a consumer first notices your products and services. They may discover your brand on social media, print or digital marketing, or word of mouth. They might also find via a search engine if they're seeking your products and services.
At this first stage, prospects aren't ready to make a purchase. Instead, they're exploring your website, gathering information from landing pages, and may even compare you to competitors. Therefore, businesses want to create engaging content that resonates with prospects, educating them on your offerings and how they respond to their pain points. The content should also establish the credibility of your brand.
Marketing teams have several options for attracting prospects during the awareness stage, bringing them further down the funnel. These include:
Blogs
Blogs educate customers on issues related to your products and services. They also highlight your industry knowledge, helping show you're a trustworthy brand. You can expand the reach of blogs by using keywords for search engine optimization (SEO), as well as CTAs to encourage further action.
Web Content
Your website is often the first impression a potential customer has of your business and provides many opportunities to inform prospects. Product and service descriptions can show how your offerings can help them, and pricing pages indicate what their budget allows. It's also a great strategy to include customer testimonials or case studies, as these serve as social proof that enhances your reputation.
Email Marketing
Businesses can conduct inbound or outbound email marketing campaigns. Outbound email marketing occurs when marketers send emails to prospects who have yet to contact the company. Inbound email marketing is sending emails to prospects who have expressed interest in your brand by sharing their email address through a CTA on your website. Emails are more personal than blogs or web content, so you can tailor them to connect with a target audience.
Social Media
Social media is integral at the awareness stage because it allows businesses to interact directly with customers. It can reveal how customers and prospects feel about a particular initiative or your brand in general, increase social proof, and even deliver customer service. You can also expand the reach of your blogs by sharing them on social media pages.
Stage 2 — Interest: Nurturing and Educating Prospects
The next stage is interest. At this point, a customer is no longer "window shopping" but has narrowed their search to one or several products and services they think are most helpful for solving their problems.
For businesses, the main goal during the interest stage is delivering personalized customer experiences to build relationships with prospects to keep them engaged. Content goes further than blogs and social media posts to include eBooks, reports, webinars, and targeted emails that educate prospects on the benefits of your products and services for meeting their needs. It's also at the interest stage that sales teams determine which potential buyers deserve the most attention and which are less of a priority. They may leverage techniques like lead scoring and sales prospecting to guide this decision.
Stage 3 — Decision: Converting Prospects into Customers
The decision stage is when potential customers are ready to make a purchase. They may be exploring pricing or subscription costs, so you want to ensure they see why the cost of your product or service will pay dividends that exceed this price. They're also more interested in contacting sales reps at this stage, so make sure CTAs for scheduling calls are present across pages.
The main focus here is increasing their interest so they choose your offerings over those of a competitor. You want to differentiate your brand by showing what sets your products or services apart. You can also stand out by improving the sales process to facilitate more informed buying with tactics like product demonstrations and consultative selling. Or, you can personalize sales interactions to address specific concerns along the buyer's journey.
Stage 4 — Action: Closing the Sale and Retaining Customers
It all boils down to the action stage — where potential customers become paying customers. It may not seem there is much else the sales team can do during the action stage, but they can facilitate a seamless buying experience to increase the likelihood of conversion. This includes restating what your products and services offer and how they solve a customer's problems to encourage them to make a purchasing decision sooner.
In some cases, the prospect won't make a purchase, but this doesn't mean they never will. Businesses should focus on building long-lasting customer relationships through follow-ups to see if promising prospects want to move forward later. If nothing else, they may provide insight into areas where you can improve the customer experience during the buying process.
Customer retention is also important at the action stage, especially for B2B companies, SaaS providers, and subscription-based enterprises. Frequent follow-ups help build customer satisfaction and loyalty and help sales teams identify opportunities for upselling.
How to Create a Sales Funnel for Your Business
With a thorough understanding of the sales funnel, you can develop a model that works for your company. Be sure your sales funnel makes sense for your sales reps and marketers, as well as your target audiences. The specific elements of your sales funnel will depend on the unique considerations of your industry or organization, but general steps include:
Determine your audience's needs and pain points
Offer gated content that's valuable to potential customers, such as eBooks or whitepapers that prospects can access in exchange for providing contact information
Link to a relevant landing page in emails and social media ads that features a CTA to maintain communication with the prospect
Increase awareness and interest through lead nurturing strategies, such as a series of emails educating prospects about products and services
Offer upsells, such as extended free trials, demos, or discounts, that encourage prospects to make a purchase
Conversion Optimization Strategies
If you haven't already, incorporating the sales funnel into your sales strategy can have a significant impact on lead generation and conversion. Of course, no strategy is perfect. Businesses can always develop new techniques to optimize the sales funnel. Consider the following ideas for conversion optimization:
Leverage data and analytics to identify cracks and bottlenecks in the sales funnel.
Use A/B testing to get indirect feedback about which content is actually resonating with your customers.
Explore user experience enhancements to make navigating your website smoother and digesting content easier, ultimately guiding prospects further down the sales funnel.
Develop metrics for measuring the success of different aspects at each stage of the sales funnel. Key metrics include:

Top of the funnel: Ad views, SEO impressions
Middle of the funnel: Website traffic, webpage dwell time, email open rates, form submission numbers
Bottom of the funnel: Conversion rates, revenue, and return on investment (ROI)
Sales Funnel Automation and Technology
Understanding the sales funnel is fairly straightforward, but implementing it can feel overwhelming. There are many components to account for at each stage of the sales cycle, and businesses want to ensure they factor in all these aspects to boost their sales strategy.
Additionally, in today's digital environment, consumers have multiple opportunities for interacting with brands and learning about their products and services. At the same time, they can easily find companies with the same offerings.
However, a growing digital landscape also provides a benefit to businesses — access to automation and technology. Customer relationship management (CRM) systems and sales automation tools help streamline sales processes, while marketing automation can cultivate more effective leads and enable personalized communication. With analytics and reporting tools, teams can track and measure sales funnel performance better, empowering them to make improvements swiftly.
Boost Conversions and Sales Success with an Effective Sales Funnel
With the right sales and marketing strategy implemented for each aspect along the sales funnel, business can turn more prospects into leads, and more leads into conversions, while meeting other sales objectives. They should leverage techniques to continually improve and optimize the sales funnel.
In addition to sales automation tools and technologies, organizations can also enhance sales funnel strategies with strategy and performance management software. Spider Strategies offers a platform called Spider Impact that keeps all team members on board in achieving strategic initiatives like sales funnel efforts.
It facilitates strategy execution by helping personnel across sales, marketing, and other departments understand the overarching goals of sales funnel initiatives and how they relate to their goals. Our software also delivers high-level strategy management and low-level, operational business intelligence to show you what's happening underneath the surface of an initiative.
Spider Strategies recognizes that all businesses have different needs and budgets. We offer Spider Impact in multiple licensing models, including a SaaS subscription, a customer-hosted subscription, and a one-time perpetual license to give you the power of choice. Contact us today to learn more about our software or view customer success stories to see how Spider Impact can help your organization.
Experience Spider Impact for Free
Schedule a live demo or claim your free 30-day trial. We're standing by to either show off Spider Impact or turn your data into a prototype for free.